President Trump claims college football players are too 'powerful' to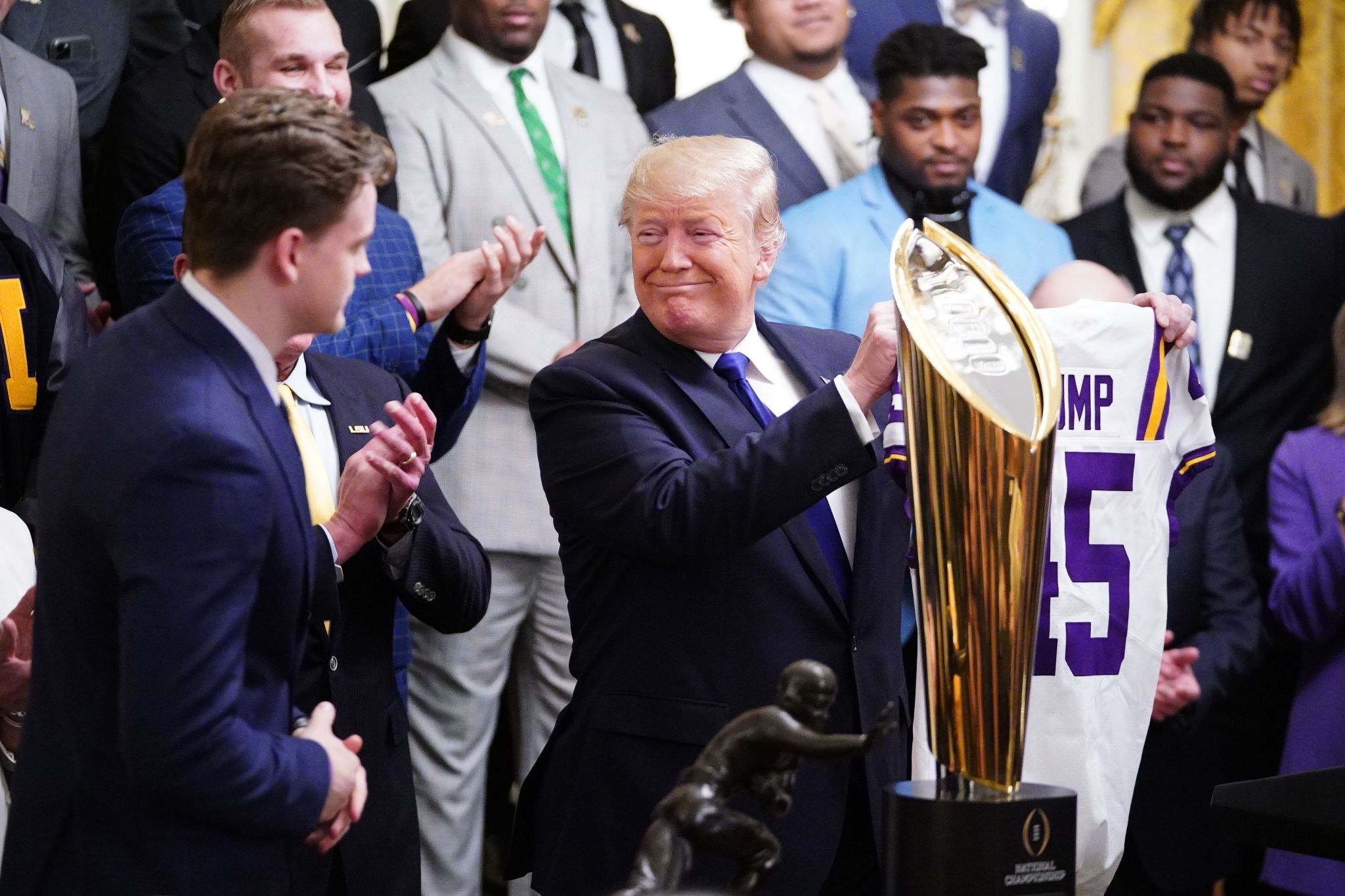 By Dan Carson, Chron.com / Houston Chronicle
Updated11:32 am CDT, Tuesday, August 11, 2020
Tigers Quarterback Joe Burrow gives US President Donald Trump a team jersey as they take part in an event honoring the 2019 College Football National Champions, the Louisiana State University Tigers, in the East Room of the White House in Washington, DC, on January 17, 2020. (Photo by MANDEL NGAN / AFP) (Photo by MANDEL NGAN/AFP via Getty Images)

less

Tigers Quarterback Joe Burrow gives US President Donald Trump a team jersey as they take part in an event honoring the 2019 College Football National Champions, the Louisiana State University Tigers, in the

… morePhoto: MANDEL NGAN/AFP Via Getty Images
Photo: MANDEL NGAN/AFP Via Getty Images
Image 1 of / 1
Image 1 of 1
Tigers Quarterback Joe Burrow gives US President Donald Trump a team jersey as they take part in an event honoring the 2019 College Football National Champions, the Louisiana State University Tigers, in the East Room of the White House in Washington, DC, on January 17, 2020. (Photo by MANDEL NGAN / AFP) (Photo by MANDEL NGAN/AFP via Getty Images)
less
Tigers Quarterback Joe Burrow gives US President Donald Trump a team jersey as they take part in an event honoring the 2019 College Football National Champions, the Louisiana State University Tigers, in the
… morePhoto: MANDEL NGAN/AFP Via Getty Images
President Trump claims college football players are in too good shape to die of COVID-19
1  /  1
Back to Gallery
As more college football programs announce their decision to forgo the 2020 season in the face of surging COVID-19 infections, President Trump addressed the media on Tuesday morning with his thoughts on a football-less fall.
Per USA Today's Scott Gleeson, the president believes cancelling football is a bad idea because the players involved, to his mind, are immune to the disease.
"The virus attacks old people very viciously," Trump said. "These football players are very young, strong people, physically. I mean they're physically in extraordinary shape. So they're not going to have a problem."
Trump also claimed an unnamed doctor allegedly told him that football players' youth and low body fat percentage contributed to their supposed resistance to the virus.
This, of course, is false — as evidenced by a growing number of cases of healthy athletes, collegiate and professional, who have contracted the virus and are now suffering from symptoms associated with COVID-19.
One such man is freshman Indiana offensive lineman Brad Feeney, whose mother, Deborah Rucker, penned an emotional Facebook post this month after her son was hospitalized with severe cardiovascular distress after testing positive for the virus in July.
"After 14 days…
Posted in football, soccer
---
---